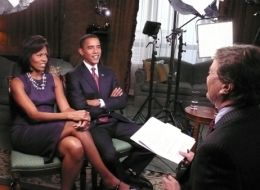 As I saw Barack Obama's
first interview
as president-elect tonight on 60 Minutes, I couldn't help thinking how neat it would have been if
Ed Bradley
were still around to do the interview. Steve Croft is good, but there would have been something really special about seeing Ed Bradley (the first black network White House correspondent) interview the nation's first black president.
I had the same thought about Tim Russert on election night. Tim wasn't black, of course, but he was such a central figure in chronicling American politics for decades and I would have liked to see him cover a story like this.
Click here
for one of several Ed Bradley remembrances you can find by searching his name. The actual 60 Minutes piece that aired after his death was spectacular, but I can't find a version of it preserved online.